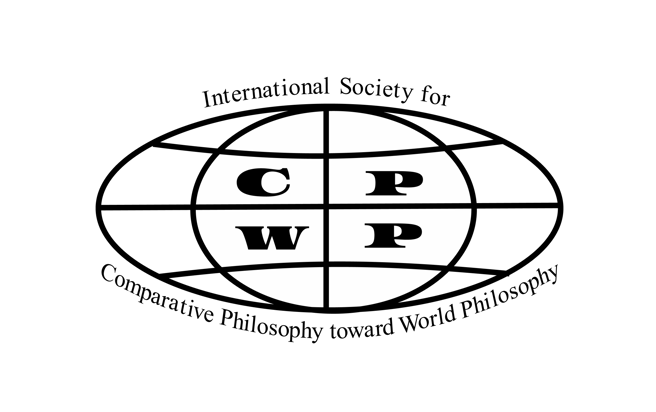 News about the CPWP

An international conference on the theme "Comparative Philosophy toward World Philosophy", co-organized by the International Society for Comparative Philosophy toward World Philosophy [as its 1st term of "Comparative Philosophy toward World Philosophy" conference series] and the open-access international journal, Comparative Philosophy (ISSN: 2151-6014 <www.comparativephilosophy.org>), and co-sponsored and hosted by the Center for Comparative Philosophy, San Jose State University, USA, will be held virtually during the week of April 18 (Monday) -23 (Saturday) April 2022, with panel sessions arranged in a scattered way sensitive to the speakers/participants' different international time zones and other relevant situational elements, instead of all sessions one by one within one or two days.
The topics and contents in the conference are expected to be philosophically interesting in a general and cross-traditional way and in view of the contemporary development of philosophy, instead of being only locally interesting to ones working merely in one tradition or merely on historical/descriptive topics.
For the current (2022-1-28) version of the "Description" document of this conference event, see the section "1st CPWP International Virtual Conference on "Comparative Philosophy toward World Philosophy" in the January 2022 issue of CPWP Newsletter (pages 12-14).
[For the previous (2021-8-10) version of its "Call for Participations as Speakers/Discussants/Critics" document, please click here.]

CPWP Newsletters

News about academic events which are relevant to CPWP's mission and in which CPWP members participate

CALL FOR PAPERS
The 66th International Congress of Phenomenology
Milan, Via Carlo Bo 1
October 27-28-29, 2022 (held in a blended mode)

Conference Program (October 27-28-29, 2022; IULM University, Milan, Italy)

I. General topic
TOPIC: Eco-Imagination for a Sustainable Future
Organized by
The World Phenomenology Institute
William S. Smith, Executive President
Jadwiga S. Smith, Co-President of American Division
Daniela Verducci, Co-President of European/Asian Division
Anna-Teresa Tymieniecka, Founder †
together with
The Department of Humanities, IULM University, Milan (Italy)
Renato Boccali, Professor of Aesthetics and Philosophy of Art

The aim of the conference is to explore the role of imagination in forming and interpreting our world-in-transformation in view of a sustainable future. The classical phenomenological approach to imagination has focused on the different modes in which we can experience the world and the correlating modes in which the world can appear to us, so that the imagination was strictly conceived in relation to perception. Furthermore, imagining can be considered as an act of experiencing something as possible, opening the virtualities that are latently present in the world. This is particularly true if we consider the life-world and the processes of individualization on the vital level. Using Tymieniecka's words, the ontopoietic spread of the Logos of Life appears caught up in the turmoil of generative progress that implies a creative imagination that enable the human being to go beyond the simple framework of the life-world, to surpass himself and open a new form of design thinking. This kind of imagination can be also defined as eco-imagination, stressing the importance of the "ecological" dimension of imagination conceived as an ontopoietic creative dynamic, grounded in the human condition within the totality of life's spread. The expansion of the human condition is thus based on the eco-imagination that activates creative virtualities and thus relates to reality in a new way, deepening the productive dynamic of life. Such an eco-imagination seems therefore to be a useful tool to frame in a new and profitable way our living, or rather the relationship that we have with our world-environment. Eco-imagination is thus the privileged way to the ontopoiesis of life conceived as an eco-phenomenology. A new form of phenomenology of life arises based on eco-imagination in relation to a more general eco-phenomenology. It means a new way of considering the development and genesis of life, promoting environmental sustainability conceived on a large scale.

Contributions that take an interdisciplinary approach are particularly encouraged. All submissions must specifically identify phenomenological aspects of the work.
The conference welcomes contributions in different topics of interest, but are not limited to:

-Environment imagination
_Imagination and eco-phenomenology
-Eco-imagination and sustainability
-Imagination in the autopoiesis/ontopoiesis of the living being
-Architecture, urbanism, and eco-imagination
-Virtual realities and eco-imagination
-Eco-systems and media environments
-Anthropocene and eco-imagination
-Elemental imagination

- Abstracts due: August 15, 2022
- Full papers due: January 27, 2023
- Registration Fee: 50.00 Euro
- Please note that all participants are expected to be members of the World Phenomenology Institute. Membership dues are 30.00 Euro per year
- Registration fee and membership dues must be paid to the W.P.I. by October 29, 2022 to the account no. 67503173, in Daniela Verducci's name, at Banca Fideuram Spa, Via D. Annibali 112, 62100 Macerata (Italy). IBAN: IT13C0329601601000067503173 SWIFT/BIC: FIBKITMM

- Please submit abstracts and full papers to: renato.boccali@yahoo.com

The conference will be held both in person and on-line.

Papers will be considered for publication in the peer-review books series, Analecta Husserliana, The Yearbook of Phenomenological Research and Islamic Philosophy and Occidental Phenomenology in Dialogue. Both series are edited by the World Phenomenology Institute and published by Springer Nature.

II. Specific Topic
Eco-Imagination for a Sustainable Future:
Perspectives from Philosophies in Islam and Asia

Background and Description of the Topic

Philosophies in Islam from the classical era (e.g., al-Kindī d. 873, al-Fārābī d. 950, Ibn Sīnā d. 1037, al-Ġazzālī d. 1111, Ibn Rušd d. 1198, Ibn al-ʻArabī d. 1240) to post-classical (Mullā Ṣadrā d. 1635/40) and current times (Arkūn d. 2010, Ḥanafī d. 2021) onwards debated the quest for knowledge from primarily neo-platonic written and oral sources, and while receiving the philosophies unfolding them further. In a following fruitful debate peripatetic understandings were facing intuitive paths of knowledge and vice versa. Human-Beingness seen as the hypostatic perfection of the universal intellect, descending into the finalized state of natural materiality or the crown of creation, the human which is understood by Ikhwān Al-Ṣafā (mid of 10th AC) in the context of Humanism (اإلنسانية).

The communication of the human within the bio-spherical cosmos was philosophically reflected also in allegorical narratives, e.g., animal fables, among them The Case of the Animals versus Man (Ikhwān al-Ṣafā, ca. 960) and the novel The Self-Taught Philosopher / Philosophus Autodidactus (Ḥayy ibn Yaqżān by Ibn Sīnā and the Al-Andalusian Ibn Ṭufaīl d. 1185) which later became an example for Defoe's Robinson Crusoe.

Human-Beingness endowed with reason is enabled to survive even when socially isolated on an island. In the philosophical narratives the human realizes potentialities of (self-) knowledge and, while applying it intensively and constantly in communication with and inside the biosphere, the intelligent soul rises-up to where it derived from, coming nearer to the One-ness / God in Islamic philosophies.

In the introduction to Reason, Spirit and the Sacral in the New Enlightenment. Islamic Metaphysics Revived and Recent Phenomenology of Life (IPOP 5) Anna-Teresa Tymieniecka emphasized: "Although in the symbiotic unfolding of life there emerges between the multifarious networks of intergenerative levels a closer and closer concatenation between the animal and the human, there it is that a seemingly unbridgeable gap opens in their communion." (Tymieniecka, 2011)

This holds true for Everything-there-is-Alive (A.-T. Tymieniecka), minerals, plants, animals, humans and beyond. A comparison between the philosophy of Sufism and the phenomenology of Tymieniecka shows that Eco-imagination can be the beginning of self-knowledge. And self- knowledge, in turn, is the beginning of the path to the One Truth. The One Truth manifests itself in nature, man, and the divine message, which are the sources of knowledge. Eco-imagination is the unity and complementarity of thoughts from these sources.

The section aims at deepening the question of the symbiotic unfolding of life from a dialogical perspective of Islamic/ Asian philosophies and occidental phenomenology, thus in order to contribute to Eco-imagination and a sustainable future for life, including the human, the only responsible beingness for destructive interventions into the Bio- and Cosmosphere.

The conference welcomes contributions in different topics of interest, but are not limited to:
- Eco-imagination in Islamic Philosophies and Occidental Phenomenology
- Self-Knowledge and alterity
- Oneness in cross-cultural dialogue
- Symbiotics in the understanding of everything-there-is-alive
- Sustainable future(s) in Islamic and Asian philosophies




The workshop "Problematising harmony, disrupting harmony: perspectives from philosophical traditions", organized by Professor Karyn Lai & Professor Chenyang Li.
Date: 19 & 20 May 2022Venue: Online via Zoom; In person (HSS Meeting Room 03-94)
Zoom Meeting: 873 0064 4447Security
Passcode: 952794
https://ntu-sg.zoom.us/j/87300644447 Kindly register your attendance by 13 May. https://www.eventbrite.com/e/problematising-harmony-disrupting-harmony-registration-328542488427




The conference "East Asian Analytic Buddhism" [School of Philosophy and Social Development, Institute of Concept and Reasoning, Shandong University, Jinan, China, 29-31 Oct. 2021] - see its "Call for Papers", "Invitation letter" and "Speaker titles and abstracts". Prof. Chang-Seong Hong (Minnesota State University Moorhead, USA), one CPWP member, is one of its invited speakers.




The symposium "EAST-WEST: Comparative Philosophy and World Situation" [Cres, Croatia, 26-29 September 2021] - see its "Conference Flyer" and "Application Form". Prof. Nevad Katheran (University of Sarajevo, Bosnia & Herzegovina), Vice President of CPWP Executive Board, and Prof Hrvoje Juric (University of Zagreb, Croatia) are Co-presidents of the Symposium Program Committee.



[Note: the new sources in this section are from participating CPWP members.]